Press/Video
44_folker 6-19_heimspiel – khoudir
 Video how should i choose my oud https://youtu.be/jOwrh2tA7wM
Video sagwas über oudhttps://youtu.be/x3644LADZcI
Doctor Oud
Berlin's Luthier Mohamed Khoudir
With all the newcomers from the Arab and North African region from 2015 onwards, all kinds of urbane short-necked lute players landed in Germany. Potential customers and exchange partners for the oud farmer and restorer Mohamed Khoudir, who also patented a small learning kanun, a box zither. In 1996, before the civil war in Algeria, he had made a run for it and ultimately headed for Germany. The man in his forties, who comes from a suburb of Algiers, has now lived and worked in Berlin for almost twenty years. Text: Katrin Wilke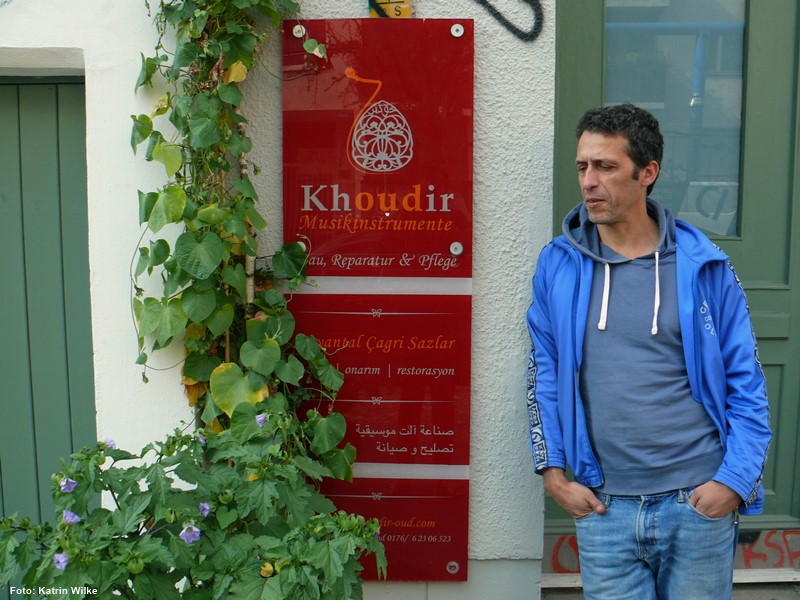 Among the Lido visitors who populate the hip Kreuzberg concert hall every evening, hardly anyone knows about the small, fine place a few doors away. In 2018, Mohamed Khoudir moved into his workshop in the basement there, almost on the edge of the nocturnal district, after having previously worked in other, smaller places nearby. At the entrance, which is surrounded by green, you can read in German and Arabic: "Musical instruments - construction, repair and maintenance". A few steps down you stand in the spacious main room, on the walls of which hang various instruments, in addition to ouds and gimbris. "The gimbri is one of the main instruments of Gnawa music and the forerunner of the oud," says Khoudir. The oud is his main focus. Since it is even nested in his surname, one likes to imagine

Khoudir's path to oud

The approach to the instrument, which evolves poetry in terms of sound and appearance, was rather unpoetic and pragmatic. After leaving Algeria - "at the age of 23, a visa and flight ticket without a return date" - Khoudir was "very lucky, as not too many compatriots of the same age were", said the Algerian. He finally came to Berlin via Italy and southern Germany.

When he had the corresponding legal status, he completed part-time an educator and later also music and sound therapy training. "At the same time, I had already started making instruments. But that was intended more as a kind of tool for educational work, because you still needed a complementary artistic qualification. For me it became the craft, the occupation with wood. I had started playing oud, and one day when I wanted my own instrument, I started carving a fingerboard out of a piece of wood. I couldn't do any further training for this, so I had to teach myself how to make instruments. That worked quite well even without YouTube instructions, especially with the help of specialist books, "says Khoudir with a smile.

Making instruments and working with children

Nowadays the self-made man devotes much more time to this activity than to his actual job. But these apparently disparate areas can be creatively coupled. "As a freelancer, I still work with children and young people and try to combine this more and more with instrument making, music and sound therapy," he explains. This was an impressive experience at the end of last year, when Khoudir invited people to a cultural opening evening in his workshop, which word got around more and more as a meeting place among musicians and instrument lovers. There were tinkering and painting children, making music and singing from the Afro-Arab community and far beyond. Right in the middle, as an almost inconspicuous haven of calm, the level-headed host,

Professionally and personally, feelings of stress of any kind seem alien to him. A trait that his satisfied customers from all over Germany and Europe also appreciate, as they say, it is useful for the small-scale work of constructing, restoring and repairing, in some cases very old, instruments, which requires a lot of patience. If he hurries, he can produce around ten instruments a year alone. "But the whole thing has its process and nothing to do with speed, six ouds a year are more realistic, also because of my educational work," notes Khoudir. In the meantime, he has also procured instruments and accessories for learners with a smaller budget, thus expanding his radius of action. You could get an idea of ​​this at this year's Berlin Gnaoua Festival of the Workshop of Cultures, where Mohamed Khoudir was once again represented with a stand. Festival curator Alaa Zouiten is just one of the quite a few excellent oud players in Berlin who would be lost without the competent Luthier he trusted.
khoudir-oud.com